UMI Step Down Voltage 220v to 110v Converter Heavy Duty Power Converter 220V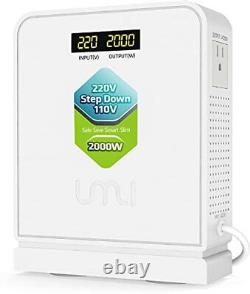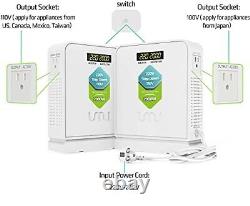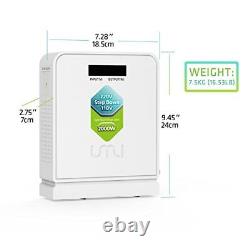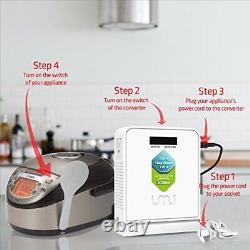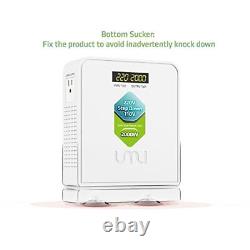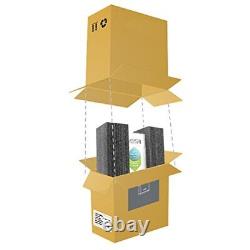 UMI Step Down Voltage 220v to 110v Converter, Heavy Duty Power Converter 220V to 110V 2000W, Good Transformer for Overseas, Step Down Converter 220V to 110V - US to Europe Voltage Converter. Product Description: UMI Voltage Converter LX-2400 SD, is designed for step down voltage converter from 220V to 110V, which is suitable for appliance with 100V-120V to be used in those countries with 220V-240V supply: Input: 220V-240V Output: 100V-120V Frequency: 50/60Hz Load Capacity: 2000Watts For UMI LX series voltage converter, there're great features: There's indicator showing input voltage and output power, easy to know the actual status; Light and ultra thin, fashion style design, with the very modern snow white shell, the product is simple, stylish and full collocation with home fashion; Plastic shell insulation leakage protection, no worry shock; The featured design with toroidal transformers, having the prouducts to be slim and smart, high efficiency, energy saving, safety. There's Sextuple protections: overloading pretection/alarm, fuse short circuit protection, overheating protection, waterproof for turn on switch, and the heat resistance level of the insulation material of the toroidal transformer is over 900 degree. It's a perfect home unit for your electronics with 100V-120V to be used in your country with 220V-240V supply based on it's durable quality and powerful functions. The appliance's MPC must be less than this transformer's Maximum Load Capacity (MLC), or it will NOT work. Voltage Converter 220 to 110? UMI 2000 Watts Heavy Duty Step Down Voltage Transformer Converter.
Step down voltage 220-240 volts to 100-120 volts. US to Europe voltage converter, which you can use your 110v or 120v electrical appliances in UK, France, Germany, Italy and other countries use 220-240v power.
The 220v to 110v converter is compact and functional, quiet and efficient. The UMI voltage converter includes built-in high-performance toroidal transformer, which uses toroid core and pure copper coils. With good transformer, the voltage converter has stable output and low consumption. UMI Power Converter 220V to 110V can be used with kinds of electrical appliances or devices up to 2000 watts.
Such as curling iron, hair straightener, hair dryer, coffee maker, air fryer, kettle, toaster, blender, mixer and other kinds of kitchen appliances, household appliance or device under 2000watt. Clearly display input voltage and power consumption, can use 2 or more 110V appliances simultaneously, just make sure the total power consumption below 2000watt.
The voltage converter includes built-in microcomputer control system, assure multiple protections with surge protection, over power protection, over-current protection, thermal protection, overload protection, short circuit protection. Energy saving, quiet and high efficiency. Please DO NOT overloaded, it will be alarming or even turn off automatically!
This item is in the category "Home & Garden\Home Improvement\Electrical Supplies\Power Strips, Extension Cords & Adapters\Outlet Adapters & Converters".n_ltd" and is located in this country: US. This item can be shipped worldwide.
Color: White
Size: 2000W-220V to 110V
Package Dimensions LxWxH: 15.0x11.06x6.3 Inches
Weight: 19.42 Pounds
Brand: umi