Foldable Hand Truck Heavy Duty 440LB Load Carrying, Convertible Hand Cart with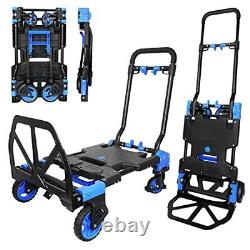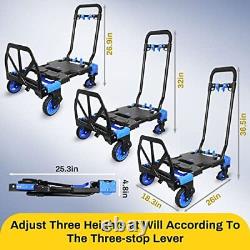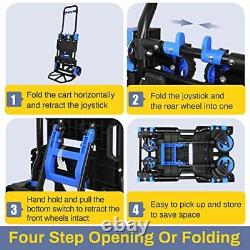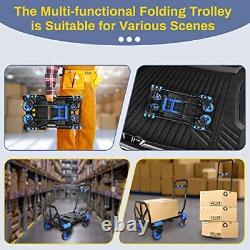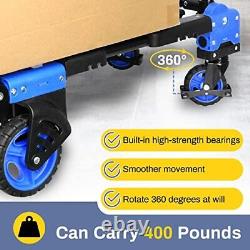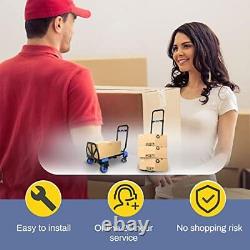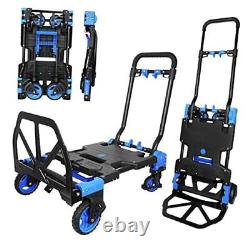 Foldable Hand Truck Heavy Duty 440LB Load Carrying, Convertible Hand Cart with. Carefully selected materials: Our foldable hand truck is constructed with high-quality steel tubes engineered with an integrated aluminum alloy base plate, that are robust, wear-resistant, and resistant to corrosion. The inclusion of precision bearings ensures seamless maneuverability for users during transportation. Additionally, our trolley features rubber, noise-reducing wheels with a textured tread pattern, providing superior traction. The rubber handle offers a comfortable and non-slip grip.
Exceptional load-bearing capacity:The convertible hand carts platform is crafted from high-density PP material, ensuring its durability, slip resistance, and abrasion resistance. This folding hand truck heavy duty enabling seamless transitions between a flatbed cart and a hand truck in a matter of seconds without the need for any tools.
The two-wheel configuration boasts a maximum load-bearing capacity of 175 pounds, while the four-wheel configuration can support a maximum weight of 400 pounds. The foldable hand truck features an ingenious magnetic mechanism integrated within its frame, allowing for effortless folding when lifted and automatic locking when expanding.
Upon swift folding, the body of the cart becomes a mere 4.8 inches thick. Versatile usability:The wheeled folding hand truck is suitable for a multitude of settings including warehouses, offices, campsites, and shopping venues. This hand truck effortlessly carries luggage, boxes, groceries, files, potted plants, and more!
With its thoughtful design and remarkable attention to detail, the folding hand truck caters to your diverse needs in various scenarios. Ensure your shopping experience is entirely risk-free, with a 100%.