Diamond Series DSR-3500 with Regulator Watt Step Up/Down Voltage Converter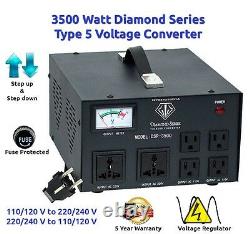 Any reasonable offer will be considered. When only the best is acceptable look at none other than the Diamond Series. The International DSR-3500 Diamond Series 3500 Watt Type 5 Voltage Converters offer best in. Class performance in Voltage transformers. Thoroughly tested to be free of defects in workmanship and materials and hand soldering insure excellent quality. An extra durable lifetime coil is included.
Automatic Input Voltage & Circuit Breaker. Converts 110/120 Volts Up to 220/240 Volts and vice versa. Works Anywhere in the World.
Heavy Duty for Continuous Use. Regulator/Stabilizer Built-in for Use where Voltage is Not Stable.
Dimensions: 11 in x 9 in x 6 in. (28 cm x 22.9 cm x 15.2 cm). Step Up and Down Voltage Converter.
This Voltage Transformer Steps 220-240 Volts Down to 110-120 Volts, which means it works. ANY country with appliances from ANY country! Voltage Converter with Built-In Voltage Regulator.
In many countries voltages can fluctuate so much that electronic equipment can be damaged. Protect your valuables from damaging fluctuations with a built-in stabilizer. These are simply the best you.
Can get for your appliances. 3500 Watts Step Up & Step Down Reversible Voltage Transformer Converter. Step Up Voltage from 110-120 Volts to 220-240 Volts. Step Down Voltage from 220-240 Volts to 110-120 Volts. Patented Universal outlet for 220 / 240 volts fits virtually any plug from anywhere in the world. Also has North American 110 / 120 volts outlet that fits North American plugs. Fuse Protected and Over Current Protection. North American Grounded Male Plug attached Plus Extra Shucko Euro plug adaptor included.
Heavy Duty for continuous use. We always recommend you check the total wattage consumed by your electrical devices you wish to use and multiply that number by 3.
This leaves enough room for surges in power that your devices may utilize. We do not recommend using voltage converters or transformers with Washers, Dryers, or any items that have a heating element such as a coffee maker. 3500 Watts Heavy Duty Step Up & Step Down Voltage Transformer Converter. Or Step Down Voltage from 220-240 Volts to 110-120 Volts.
Heavy Duty for Continuous Use Using an Extra Durable Lifetime Coil. Works Anywhere in the world. Used by USA Military, Navy, Marines, and many other institutions. 2 Spare Fuses, and Euro Shucko Plug adaptor included.
HOW TO SELECT THE RIGHT SIZE (WATTS) VOLTAGE TRANSFORMER CONVERTER. To determine the correct model of voltage converter / transformer you need, you'll first have to identify the wattage of the electronic devices or appliances that you plan to use with it. Note: Watts may be abbreviated as W on your appliance. However if you can't find Watts or W on the label of your appliance, then you may be able to find Amps, also known as amperage or A.
This can be converted to Watts in order to select the correct converter. Use the following example as a guide: Volts x Amps = Watts or 110V x 1.5 A = 165W. Once you have the total watts of all the devices that will be used with the transformer, please add up the total watts and multiply that number by 3. For the example above it would work out to 165W X 3 = 495 W.
In this case you should go with the transfer that is at least 495 watts so you would choose the 500 watts size. Sizes from 100 watts upto 5,000 watts are available.
It is not to be used for USA 220/240 volts which is normally found in a dryer or other commercial applications. GUARANTEED FOR A LIFETIME OF REGION FREE PLAYBACK.
546 Crossen Avenue Elk Grove Village, IL. The item "Diamond Series DSR-3500 with Regulator Watt Step Up/Down Voltage Converter" is in sale since Friday, September 5, 2014.
This item is in the category "Consumer Electronics\Multipurpose Batteries & Power\Heavy-Duty Voltage Converters". The seller is "region*free*dvd" and is located in Elk Grove Village, Illinois. This item can be shipped worldwide.
Type: Voltage Transformer regulator
Input Voltage: 110 V
MPN: DSR-3500
Model: Diamond Series 3500 DSR-3500
Output Voltage: 110 V
Brand: International
Voltage Conversion: Step-Up & Down